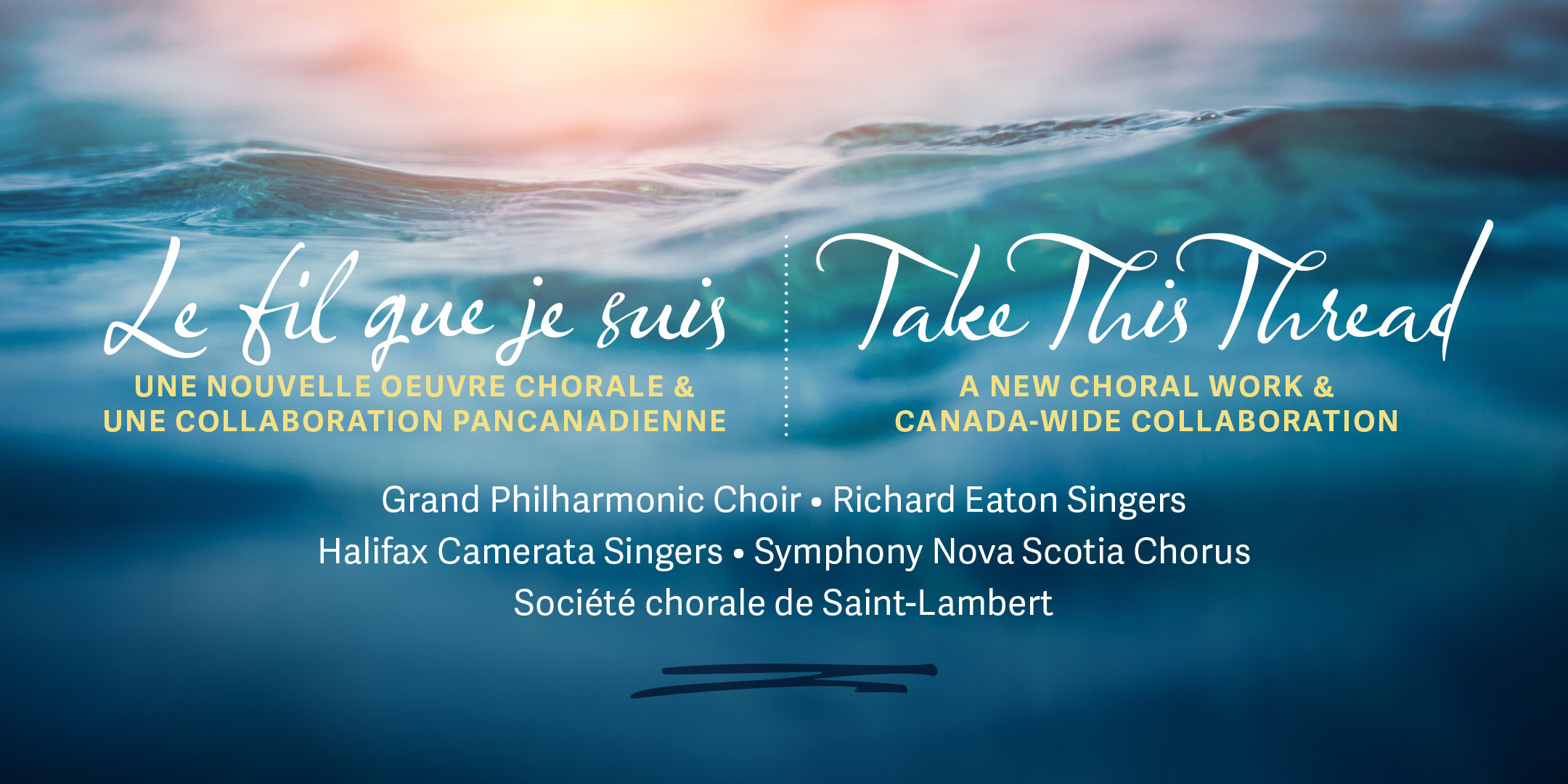 FROM COAST TO COAST …
Edmonton's own RICHARD EATON SINGERS joined choirs across Canada in singing Take This Thread by Vancouver composer Katerina Gimon with text by Montreal poet Lauren Peat.
With the possibility of an imminent return to singing together in person, this timely recording explores the the connections that held us together during the Covid-19 pandemic, and the emotional journey from isolation to reconnection. With each other, with our neighbours, and indeed, with the rest of Canada.
This project brings together musicians from Edmonton, Halifax, Montreal, and Waterloo . Montreal violinist, Bénédicte Lauzière, concertmaster for the Kitchener-Waterloo Symphony, and Waterloo pianist, Ian VanderBurgh, also perform.
Says Richard Eaton Singer's Artistic Director, Dr Leonard Ratzlaff: "in over a year since choirs have been unable to meet in person due to the pandemic, we have witnessed many truly visionary projects aimed at keeping choral singers engaged in the process of singing together. This project, initiated by the Grand Philharmonic Choir in Waterloo and involving 5 symphonic choirs from across the country, is a most original and absorbing expression of choral singers' collective wish to unite their voices in the face of sometimes overwhelming odds. Our singers have embraced this project with great enthusiasm, and I believe the final result will prove to be most gratifying for the participants, not to mention truly inspirational to listeners."
All the choir directors agreed they wanted to work collaboratively on a new bilingual work that captures the spirit of the times of this unique moment in history. "With this project, we wanted to create a work that acknowledges the loss we all feel and so many are experiencing," said Mark Vuorinen, artistic director of the Grand Philharmonic Choir and the leader of this project. "We wanted to tie together our vast country by involving creators from coast to coast. With five choirs, a poet and a composer, we have a project that spans from the Pacific to the Atlantic!"
Gimon, the composer, said she was delighted to be writing music "that reflects our world, that can help connect people." She and Peat have collaborated before, and actually met 13 years ago when they both sang in the Hamilton Children's Choir. Peat, the poet, said she was thinking about "this delicate effort to re-weave the links between us in this time" and she came upon the idea of a thread, which forms the central image for the poem.
Xavier Brossard-Ménard, director of the Société chorale de Saint-Lambert, Montreal, said he and Vuorinen had earlier discussed a collaboration in person, that had to be cancelled because of the pandemic, but the hope of an artistic connection was still there. "This was the seed of a desire to weave a thread that binds us together. I am happy that this project allowed us to meet wonderful people across the country!"
Jeff Joudrey, who directs both Halifax-based choirs, said: "When Mark called and proposed the project, I knew this was a gift for the Halifax Camerata Singers and The Symphony Nova Scotia Chorus. "The timeline was perfect for us, It enabled us to join together for virtual rehearsals and eventually with our colleagues across the country to create something beautiful in a time when we all were yearning to sing together again."